One City One Call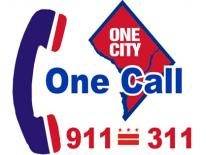 Get the services you need, when you need them.
Call 911 for services from Metropolitan Police Department (MPD) or DC Fire and Emergency Medical Services (FEMS).
311 is the number you should use to request city services such as a bulk trash pick-up, to report a pothole, alley clean-up or repair, or to be connected directly to any District government agency.
Use the table below as a guide.
More information
Call
Description
Call 911
(for police, fire or emergency medical services)

Any crimes in progress (or just occurred)
Serious violent crimes such as homicide, robbery, domestic violence and assault
Fire/medical emergencies
Gunshots or a person with a gun or other dangerous weapon
Home/business intruders
Vehicle crashes with personal injury, major property damage or traffic tie-ups
Illegally parked cars that are blocking traffic
Or if you see a criminal you know is wanted by the police

Call 311
(for city services and information)

Broken Meters
Bulk collection
Missed trash pick- up
Potholes
Abandoned autos
Parking enforcement
Tree Services
Illegal Dumping
City agency phone numbers, addresses and hours of operations