Upcoming Training Courses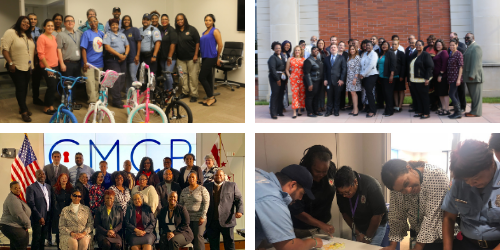 | | | |
| --- | --- | --- |
| Course | Date | Time |
| When High Profile Calls Have a Higher Impact | Thursday, April 1 | 8:30AM - 4:30PM |
| Enhanced Caller Management | Monday, April 5 | 10AM - 4PM |
| Terrorism and the Telecommunicator | Thursday, April 16 | 8:30AM - 4:30PM |
| Disaster Planning in the PSAP | Thursday, May 6 | 10AM - 4PM |
| Crisis Communications | Friday, May 7 | 9AM - 5PM |
| Enhanced Caller Management | Thursday, May 13 | 10AM - 4PM |
| Disaster Planning in the PSAP | Tuesday, Jun 1 | 10AM - 4PM |
| Cybersecurity Awareness in the PSAP | Friday, Jun 11 | 8:30AM - 4PM |
| Active Assailant | Thursday, Jun 17 | 8:30AM - 4PM |
| Terrorism and the Telecommunicator | Thursday, Jun 17 | 1PM - 5PM |
| Interoperability and Mutual Aid Awareness for Dispatch | Friday, Jun 18 | 10AM - 4PM |
| Sovereign Citizen Extremists | Monday, Jun 21 | 9AM - 5PM |
| Interoperability and Mutual Aid Awareness for Dispatch | Tuesday, Jul 6 | 10AM - 4PM |
| Active Assailant | Tuesday, Jul 13 | 8:30AM - 4PM |
| Critical Incidents - Total Disaster Response | Thursday, Jul 15 | 8:30AM - 4PM |
| Advanced Police Dispatching | Friday, Jul 30 | 10AM- 4PM |
| Crisis Communications | Monday, Aug 2 | 9AM - 5PM |
| Advanced Fire & EMS Dispatching | Tuesday, Aug 3 | 10AM - 4PM |
| Hostage Negotiation for Telecommunicators | Monday, Aug 9 | 8:30AM - 4:30PM |
| Telecommunicator Crisis Intervention | Tuesday, Aug 10 | 8:30AM - 4:30PM |
| Active Assailant | Mon, Aug 30 | 8:30AM - 4:30PM |
For a full list of upcoming and past trainings, visit the OUC's Eventbrite Page.
OUC's National Training Reach
The Office of Unified Communications' Office of Professional Standards and Development (OPSD) Division operates a world-class training program. As a training hub in the Nation's Capital, public safety partners and emergency communications professionals from across the nation come to the OUC to sharpen their skills alongside us in keeping with industry best practices. We are proud to host learning opportunities with our patrners from NENA, APCO, Denise Amber Lee Foundation, Kim Turner LLC, and many more.
.