Jennifer A. J. Greene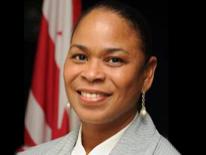 Jennifer A. J. Greene is a native Washingtonian who began her ambitious, decades-long career with the Metropolitan Police Department as a uniformed patrol officer, assigned to the First District Substation in 1982. Her reputation for being a formidable leader, having uncompromising integrity and possessing sharp analytical skills preceded her and she quickly rose through the ranks, from Sergeant in 1989, Lieutenant in 1993, Captain in January 1999, and Inspector in March 1999.
As the city and law enforcement officials braced for the shift into the new millennium, Ms. Greene was called upon to take on a more senior role within the Department and was promoted to Commander of the Fifth District. In this position she assessed crime patterns, developed and implemented crime eradication plans, and was ultimately responsible for tackling some of the Fifth District's toughest, longstanding issues. Taking seriously the charge to engage in customized community policing, she established a close network of residents and community leaders who were unequivocally committed to supporting her efforts.
In 2007, she transitioned to the Human Resources Management Division, where she utilized her exceptional management and organization skills to revamp Recruiting Branch, Medical Services Branch, Personnel Operations and Disciplinary Review Branch practices, leaving each of those operations more efficient.
Over the course of her career, with a track record for success preceding her, Commander Greene was also selected for a variety of operational assignments, including Officer of the Special Operations Division and Sergeant in the Communications Division and in the Office of Professional Standards. More recently she was the Police Liaison to the Office of Unified Communications, where she was tasked with interceding on behalf of the Department and mediating issues that affected both agencies.
In January 2011, Ms. Greene became the Commander of the Youth Investigations Division. At the Youth Investigations Division, she was responsible for revolutionizing business processes related to the management of abuse, exploitation, trafficking and absconder cases. From there, she recently ended her 28 year career with the Metropolitan Police Department, after being tapped by Mayor Vincent C. Gray to become Director of the Office of Unified Communications.
Ms. Greene holds a Bachelor's Degree in Sociology from Duquesne University in Pittsburgh, Pennsylvania. She is also a graduate of the FBI National Academy in Quantico, Virginia; the Senior Management Institute of Police (SMIP); and the George Washington University Center for Excellence in Municipal Management.
Ms. Greene has also been highly recognized for her service as a police official. She has received numerous awards, including meritorious service, leadership and achievement awards and a Chief of Police Commendation for her outstanding commitment and dedication to law enforcement and public safety.