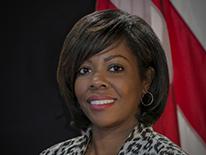 Karima Holmes was appointed by Mayor Muriel Bowser to serve as the Director of the Office of Unified Communications (OUC). OUC consolidates the emergency 911, non-emergency and basic city service 311 call activities from the Metropolitan Police Department (MPD), DC Fire and Emergency Medical Services Department (DCFEMS) and the Mayor's Citywide Call Center. 
A seasoned public safety professional, Ms. Holmes started her career on the front line as a communications officer, handling incoming 911 calls and dispatching responders to incident locations. Throughout her career, Ms. Holmes has also held a number of other vital positions including Acting Assistant Director, Sergeant, Quality Assurance Supervisor, Training Coordinator, and Standards Manager. In every role she has maintained a laser-like focus on both supporting employees' professional development and improving morale, as well as on community engagement and outreach activities.
Just prior to her appointment as OUC Director, Holmes served as the Managing Director of the Southwest Regional Communications Center in Texas, which includes PSAPs for the cities of DeSoto, Duncanville, and Cedar Hill, Texas. While there she also served as the chief spokesperson for the center which provides emergency communications services for over 150,000 residents.
Ms. Holmes attended John Jay College of Criminal Justice, completing her B.A. in Criminal Justice, and received her Masters of Public Administration with a concentration in Homeland Security, from Augusta State University, where she graduated cum laude.
Ms. Holmes also holds an Emergency Number Professional (ENP) Certification from the National Emergency Number Association (NENA).