Thank you for visiting the Office of Unified Communications (OUC) performance dashboard. This dashboard provides insight into the work of the city's first first responders by providing performance data on 911 call handling, dispatching, staffing, and more.
This is a beta site, and we are still working to test and improve the site. Expect updates to the dashboard as OUC receives feedback on this first-of-its-kind tool. You can provide feedback on the site here. To provide feedback on a specific 911 or 311 call or text, visit our feedback form.
The District's 911 call center is one of the busiest in the country, historically ranking as the 4th busiest center behind those of New York City, Chicago, and Los Angeles. So far in 2023, OUC has handled approximately 1.27 million 911 calls for service, including more than 3,000 calls requiring CPR instructions. In 2022, OUC handled approximately 1.6 million 911 calls for service.
In recent years, OUC has taken steps to keep up with the increasing demand and complexity of 911 calls. In July 2023, OUC answered 75.98% of calls in 15 seconds or less. In August 2023, 81% of calls were answered in 15 seconds or less.
Recent operational adjustments include adding a fourth supervisor to each shift, more than doubling training hours, and a continued focus on improving quality assurance and accountability.
In the coming year, new investments in training and technology will allow OUC to further increase the quality and amount of training hours and implement a standards-based call processing protocol system to ensure that call takers are using a responsive technology that will adjust questions to better respond to callers' needs.
The OUC roadmap provides more information on the steps we continue to take to respond and prepare for your call.
The goal of this tool is to help track this progress and provide insight into the daily operations of DC's 911 call takers and dispatchers, work that happens behind the scenes but is critical to building a safer, stronger DC.
If you are interested in supporting the community by becoming a 911 call taker, click here to learn more and apply today.
View an in-depth walk through of the 911 Performance Dashboard, led by Director McGaffin, here: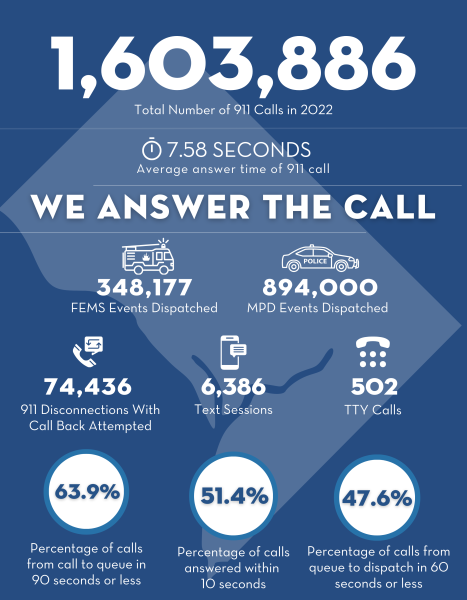 Calendar Year 2022 by the Numbers
1,603,886 - Total Number of 911 Calls

348,177 - DC Fire & EMS Events Dispatched

894,000 - MPD Events Dispatched

74,4346 - 911 Disconnections with Call Back Attempted

6,386 - Text Sessions

502 - TTY Calls
Answering the Call
7.58 Seconds - Average Answer Time of 911 Call
51.4% - Calls Answered Within 10 Seconds
63.9% - Calls to Queue in 90 Seconds or Less
47.6% - Calls to Queue to Dispatch in 60 Seconds or Less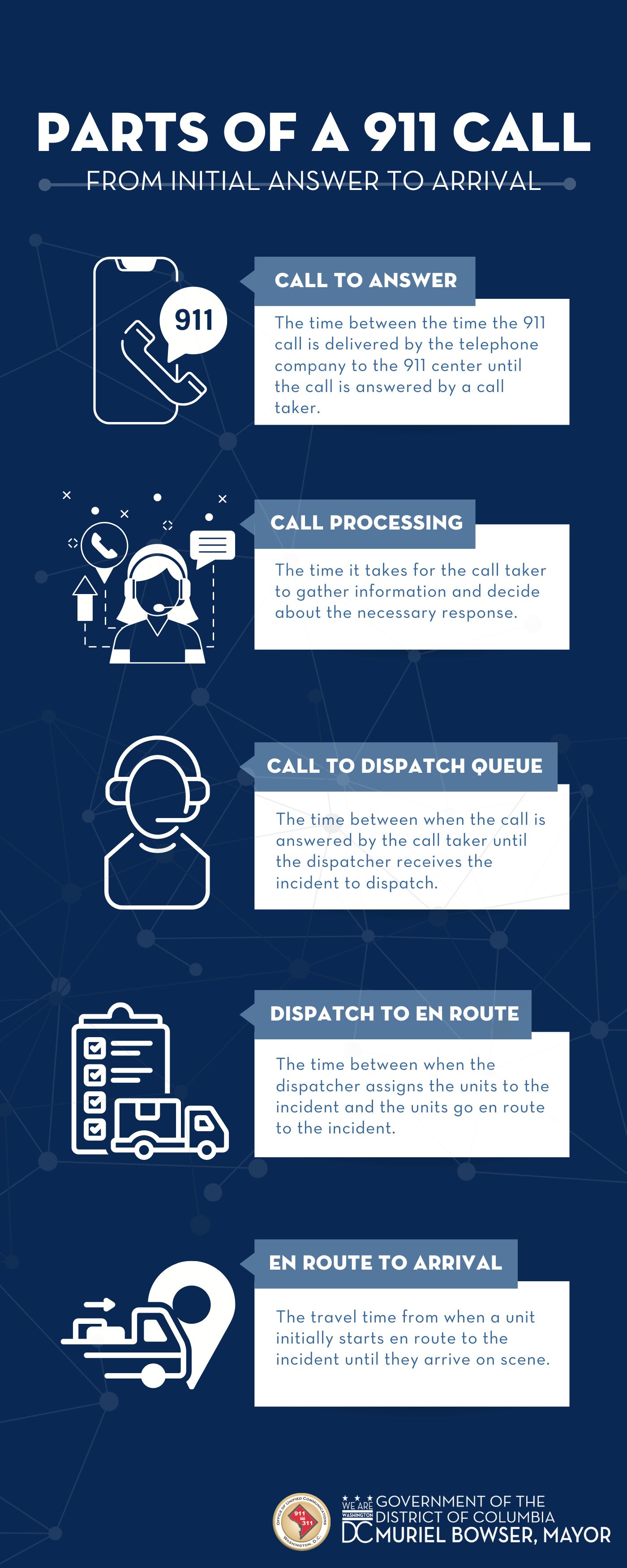 911 Performance Dashboard

The data below measures what we refer to as Call to Answer which is the the time between the time the 911 call is delivered by the telephone company to the 911 center until the call is answered by a call taker. You can adjust the time frame and move through the data using the page arrow.

The data below shows measures how the time between when the call is answered by the call taker until the dispatcher receives the incident to dispatch.

Not all calls require a dispatch. The data below shows where and the number of 911 calls that were diverted to for a more appropriate response.
The data below shows the total number of shifts and the number of those shifts where we did not meet our target staffing level. This data will be updated monthly.

The data below shows the number of calls that did not require public safety response or need to be diverted.
Below is a list of concerns reported to or discovered by OUC, why the issue occured, and how we took corrective action to minimize the chances of the issue happening again.
If you believe there was a issue reported and you do not see it below, please
submit that feedback here
. Rollover, tap or click on any part of the table to reveal the full information.