Join the Office of Unified Communications
The Office of Unified Communications is hiring!
If you are interested in joining our team, apply here.
Want to become a first, first responder? The OUC is currently looking to hire twenty (20) telecommunications equipment operators, or 911 call takers. Apply today and receive a $2,500 hiring bonus!
For more information, contact the Office of Professional Standards and Development at [email protected].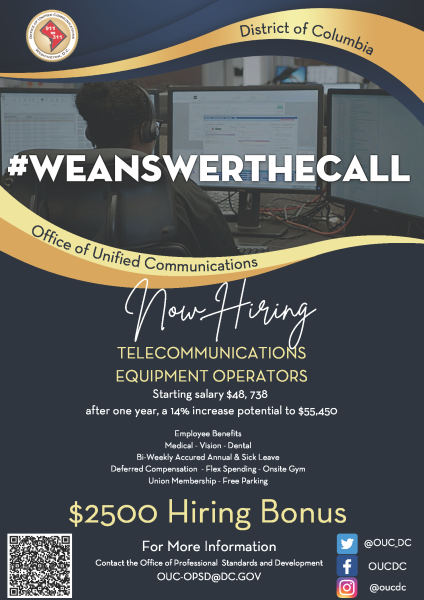 Join us for Prospect Day!
OUC is committed to hiring dedicated individuals who have a passion for public safety and emergency communications. 911 Telecommunicator Prospect Day helps us to streamline the hiring process by allowing applicants to complete multiple steps of the process in one day. Prospect Day will be held monthly, on site, at the Unified Communications Center.
This is NOT an information session. Interested parties must complete the Telecommunications Equipment Operator application in its entirely before being invited to participate in Prospect Day. Complete the application here.
What to Expect
During their allotted time, applicants will:
Take the CritiCall Pre-Employment Assessment

Participate in on-the-spot interviews

Tour our state-of-the-art facility
Related Content: