It's Mowing Season!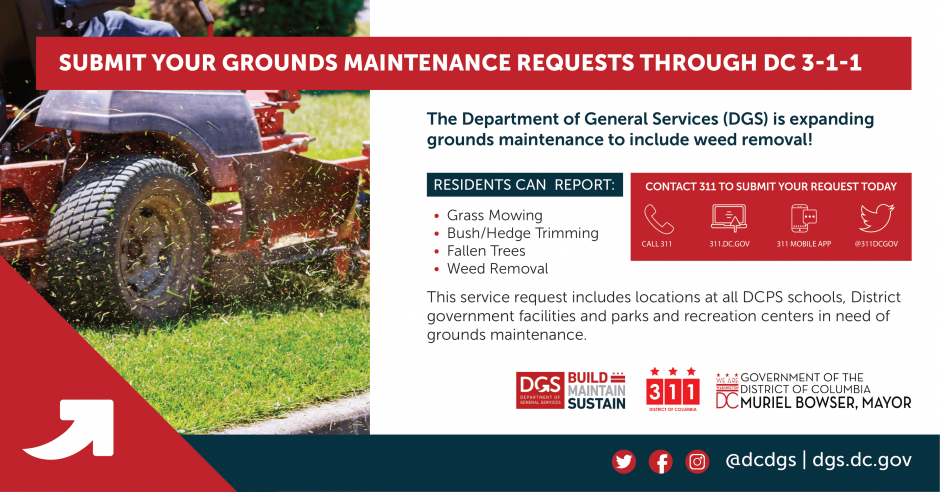 Mowing season is in full swing with DGS (Department of General Services). The Service Request is for the following areas: schools, government facilities or parks and recreation. Please note, this does not encompass athletic fields, turf, playgrounds and other specialty fields. Residents can report:
Grass Mowing Requests

Bushes/Hedges Trimming Requests

Fallen Trees

Weed Removal
Welcome DGS is apart of the 311 System
The Department of General Services (DGS) is pleased to announce a new partnership with the Office of Unified Communications (OUC) that will allow residents to use the District's 311 Call Center to request grounds maintenance services for District-owned properties including schools, municipal facilities, and parks and recreation centers. Effective immediately, District residents can report requests for grass mowing, bush/hedge-trimming as well as the removal of fallen trees by calling to speak to a 311 agent, submitting an online request at 311.dc.gov, through the DC311 mobile app, or by tweeting @311DCgov.
DGS manages approximately 840 buildings within the District's owned and leased properties and is committed to providing residents with safe, dynamic, and accessible recreational spaces. The OUC 311 Call Center Operation provides a one-stop service experience for residents and visitors searching for government services, numbers and information. The Operation was designed to make the public's interaction with city government more convenient and less prohibitive.
Users of DC 311 should provide as much information as possible to ensure DGS can complete the 'grass mowing' request in a timely and accurate manner, contingent on weather conditions. DGS aims to maintain grass levels at approximately 3 inches, with the exception of 'no mow' areas. While mowing season for the District will conclude on October 1, DGS will continue to respond to other requests for grounds maintenance. Additional information on District grounds maintenance services performed by DGS is available here