Monday, September 12, 2011
Visit was part of 9/11 commemorative events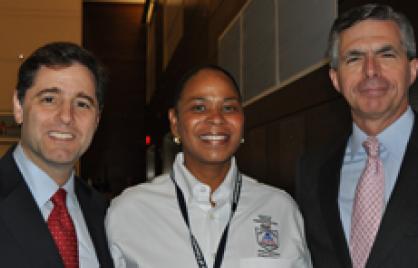 As one of his 9/11 tenth anniversary commemorative events, FCC Chairman Julius Genachowski and FCC Public Safety and Homeland Security Bureau Chief Admiral Jamie Barnett visited the District's PSAP, the Office of Unified Communications today to tour the state of the art facility. The Chairman spent time visiting with new Director, Jennifer Greene, and was briefed in detail about 911 operations by Operations Manager, Robert Sutton.
The Chairperson spent time visiting with several staff members who worked on 9/11, inquiring about the types of 911 calls that they received that day, and in particular wondering how technology and emergency preparedness has changed in the last ten years. A new state of the art building, I-Mobile in field units, and a "unified" call center, taking calls for both Fire and EMS, MPD, and 311 non-emergency calls for city services and information are just a few examples of progress.
Discussed were challenges, in particular, 911 dispatching technology keeping up with social media trends such as texting and Twitter.