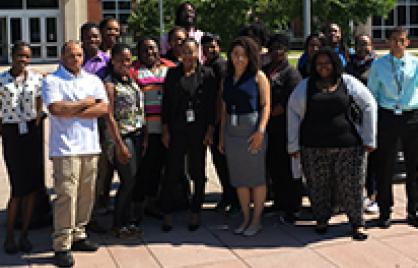 (Washington, DC) Today, Office of Unified Communications Director Karima Holmes announced that 22 new emergency and non-emergency call takers have joined the agency's ranks, where they will answer 911 and 311 calls and assist in getting callers the help they need. The new hires are the result of fresh resources being applied to an agency whose workload is growing steadily as the population and tourism increase in the nation's capital.
"I am very thankful that Mayor Bowser and Deputy Mayor Donohue recognize the need for more resources and have made this a priority," said OUC Director Holmes. "We are committed to answering citizens' calls for help, and having more resources will allow us to do that more effectively."
The number of emergency and non-emergency calls has grown steadily over recent years as Washington, DC's population boom continues. On average, OUC call takers answer 4,500 emergency 911 calls for service and about the same amount of non-emergency 311 calls per day. That's nearly 3 million calls for service per year.
The request for extra personnel was part of Director Holmes' budget request in January as she seeks to retool the agency, focusing on training and customer service. She has already created an accountability measure among supervisors, and she has installed a quality assurance team that is reviewing protocols and individual calls in order to improve the service provided.
With 341 total employees and a total budget of $45.4 million, OUC provides24-hour coverage for emergency and non-emergency issues for residents and visitors of the District of Columbia.