Tour provides opportunity for NG 9-1-1 Congressional Co-chairs to learn more about NG 9-1-1 challenges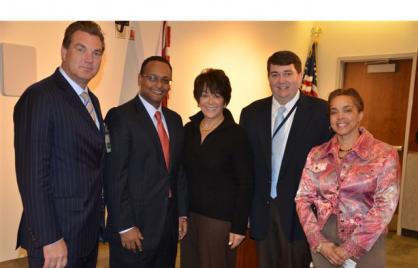 On Friday October 14th, 2011, the NG 9-1-1 Institute hosted a tour of the Office of United Communications in the District of Columbia.
The tour was conducted for the Co-Chairs of the Congressional NG 9-1-1 Caucus, Rep. John Shimkus (R-IL) and Rep. Anna Eshoo (D-CA).
The tour provided the Co-Chairs, and the media that accompanied the tour, an opportunity to examine the challenges facing the migration to NG 9-1-1 services. OUC Chief Information Officer, Teddy Kavaleri provided an overview of the agency and addressed questions from the Co-Chairs and the media.
The objective of the tour was to help draw attention to the legislative effort by the Congressional NG 9-1-1 Caucus to pass legislation that would provide federal funding for NG 9-1-1 technology and training for public safety answering points. The legislation is pending in the House Energy and Commerce Committee, H.R. 2629.