Wednesday, December 2, 2009
Donations from OUC and others enables some to continue to serve more than 1,000 daily meals to the homeless and hungry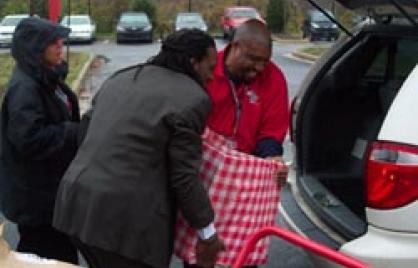 Washington, DC – Employees of the Office of Unified Communications embarked on their annual campaign to collect canned food in support of So Others Might Eat (SOME) and the Capital Area Food Bank (CAFB). Despite the difficult economic times gripping the city and country, the drive generated a total of nearly 1000 pounds. This initiative highlights the OUC's primary focus, which is to remain engaged and focused on supporting the community.
"Every year employees of the OUC are excited to participate in the food drive and are eager to do their part and help make a difference," commented Janice Quintana, Director of the OUC. "Recognizing the impact that their generosity has on families who struggle to put food on the table motivated them to ensure that the drive was successful."
The OUC's donation, as well as others, enabled SOME to continue to serve more than 1,000 daily meals to the homeless and hungry. In addition, according to the CAFB website, their organization's ability to provide food to hungry children, families and senior citizens would not continue to be possible without contributions such as this. 
"During these tough economic times, more and more people are turning to food pantries to help feed their families – people that never envisioned being in such a difficult position. We hope that our donation will help make a difference for many of those families" Quintana said.
About OUC
The mission of the Office of Unified Communications (OUC) is to provide a fast, professional, and cost-effective response to emergency and non-emergency calls in the District. The OUC was created in fiscal year 2005 and consolidates 911 and 311 call activities from the Metropolitan Police Department (MPDC), Fire and Emergency Medical Services (FEMS), and customer service operations.